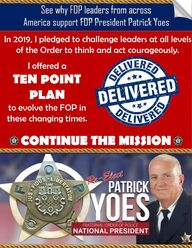 Return to flip book view
Vote Yoes 2021
Page 1
See why FOP leaders from across America support FOP President Patrick YoesIn 2019, I pledged to challenge leaders at all levels of the Order to think and act courageously. I offered a TEN POINT PLAN to evolve the FOP in these changing times.
Page 2
Upon taking office, I established a strategic planning committee of FOP leaders, nationwide, to ignite conversations about our rapidly changing profession with the goal of collaborating on strategies that encourage all members to Stand United and influence the rapidly evolving future of our profession. More than 30 short and long-term action items were adopted by the Board of Trustees.By appointing a team of advocacy specialists to amplify the voice of the National Fraternal Order of Police, our media presence has become greater than all other national police organizations. Because of our efforts, the FOP was mentioned 70% more than the other top ten police organizations combined. When it comes to media engagement, no one compares to the FOP!The immediate implementation of weekly Executive Board meetings and monthly Board of Trustees meetings has delivered more visibility and accessibility to FOP leadership than any other time in the history of the National Fraternal Order of Police. This new level of transparency has resulted in more effective internal communication of our goals and the strategies we will implement to achieve them. Relationships between the National Executive Board and State and local leaders are stronger and more resilient than ever. Resilience is the ability to recover from setbacks, adapt well to change, and keep going in the face of adversity. Today, strength in relationships is the foundation of our organization.The establishment of a national marketing committee has empowered our organization by exponentially growing our voice in numbers. Through careful strategy, we have increased our following by more than 100% across all platforms, produced regular informational videos via FOP-TV and implemented a series of videos to humanize our noble profession.Status update on my 10 Point Plan to redefine the Fraternal Order of Police during these changing times
Page 3
Recognizing the impact of trauma on the job is crucial to the success and well-being of all law enforcement officers. We prioritized officer wellness and created the first ever National Fraternal Order of Police Wellness Division and Wellness Conference to ensure our members are getting the relief they need when they need it the most.The membership of the FOP is a wealth of knowledge and resources that has been called on to advance our order in these challenging times. By expanding the number of committees and keepingveteran committee members, while infusing younger members, we have had the opportunity for mentors and future leaders come together and learn from one another. We have seen unprecedented success in achieving goals and overcoming adversity across the NFOP..When disaster strikes, first responders stay on-the-job as their own families and communities try to put together the shattered pieces of their lives. After taking office, a 53' former NASCAR trailer was acquired through corporate sponsorships. It was refitted as a highly visible, fully equipped, cook kitchen. This, along with several smaller trailers, was put into service this year to provide aid, rehab, and help remediate members' homes while they remain on-duty serving the cities they love!Our presence in Washington, DC is well established, and our perspectives are highly sought by reasonable leaders. Our dedicated legislative leadership, and staff, have kept FOP interests in the forefront and continue to advocate for our top priorities. Our support, or opposition, to proposed legislation is often what determines the success or defeat of critical law enforcement bills. During a stressed real estate market on Capitol Hill at the height of the Covid lockdown, we seized an opportunity to purchase the neighboring building to our existing D.C. property. This acquisition allowed us to expand our legislative operations and investment portfolio.By soliciting feedback and evaluating our current programs our Labor Services Division continues to excel. As a result, we have expanded to provide services to 139 units in 17 states. This, combined with local lodge contracts negotiated independently by their FOP Lodges, the FOP dominates police bargaining in America. This increase differentiates the FOP as the top labor and fraternal organization!
Page 4
See why FOP leaders across America support FOP President Patrick Yoes
Page 5
Page 6
Page 7
Time-tested, Proven Leadership
Page 8
Early endorsements by more than 32 State Lodges Kentucky State Lodge Virginia State Lodge